Products
PEX-A installation pipes
PIPE SYSTEM FOR INSTALLATION
INDOOR AND INDUSTRIAL
HEATPEX PEX pipes are manufactured in diameters from DZ 16 mm to Dz 450 mm of cross-linked polyethylene, obtained by modification with the Engel method.
The heatPEX pipes have an EVOH anti-diffusion barrier, preventing oxygen from penetrating the heating medium. They are used to perform local distribution, underfloor heating and central heating installation risers. in single and multi-family housing. SaniPEX pipes are most often used for local distribution and cold and hot water risers in single and multi-family housing. They cannot be used in heating systems due to the lack of the EVOH diffusion barrier.
The Pert / Al / Pert multilayer pipe system is available in diameters from Dz 16 mm to Dz 32 mm. The great versatility of the pipes allows the use of one type of pipes for the installation of central heating, floor and wall heating as well as hot and cold tap water. The pipes are characterized by high pressure and temperature resistance, durability, minimal linear expansion, low weight, high plasticity and resistance to oxygen diffusion.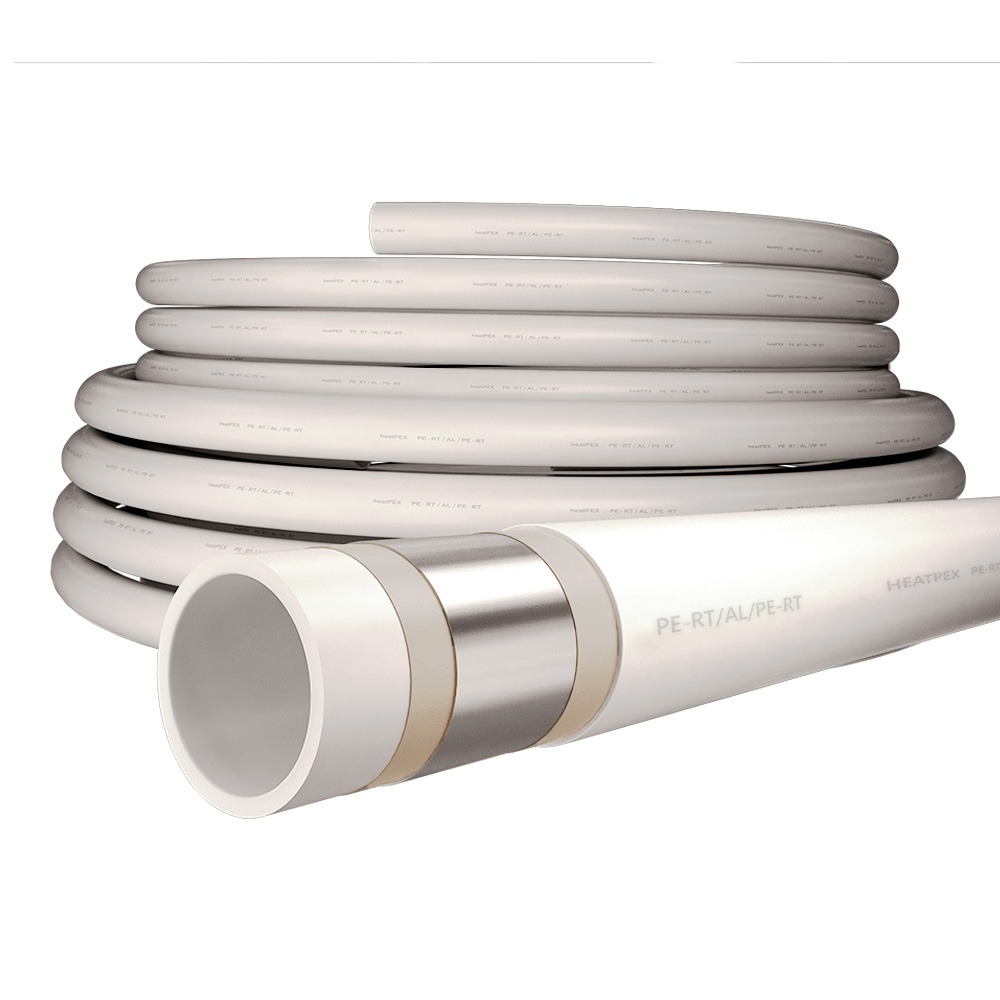 Pert / al / pert pipes
PERT / AL / PERT pipes are intended for use in central heating, floor and wall heating as well as hot and cold tap water installations. They are delivered in coils of 50, 100 or 200 m, depending on the selected diameter. They can work at temperatures up to 90ºC
high resistance to oxygen diffusion
low self-weight
high plasticity
quick and easy assembly
Corrosion resistance
Excellent mechanical strength
Exceptional chemical resistance
Very low coefficient of friction
Long service life
Outstanding ability to absorb vibrations and noise
Pert / Al / Pert multilayer composite pipe consists of
two layers of PERT polyethylene (constituting the base layer and the protective coating)
aluminum jacket
| Dimension ØDz x s [mm] | Length standard | Unit commercial | Number catalog |
| --- | --- | --- | --- |
| 16x2.0 | 200 m | 200 m | 416 200 016 |
| 20x2.0 | 100 m | 100 m | 416 100 020 |
| 26x3.0 | 100 m | 100 m | 416 100 026 |
| 32x3.0 | 50 m | 50 m | 416 050 032 |