Products
INSULATED MASS FLOW DUCTWORK ARIA ADURO
ARIA ADURO is a system made of highly insulating expanded polystyrene material for efficient air transfer to and from the HRV unit. The material used in ARIA ADURO is lightweight, durable, and enriched with graphite, making it resistant to fungi, mold, and bacteria.
The system is specifically designed for heat recovery ventilation in single-family houses and, when combined with the ARIA CONNECT semi-rigid ducting system, provides a complete air distribution system for heat recovery ventilation with HEATEPEX ARIA.
Our intuitive ARIA PLANNER selection software, available on our website, allows you to design a heat recovery system in three simple steps. It provides all necessary documentation and generates a comprehensive list of components.
Insulated mass flow ductwork for HRV
ARIA ADURO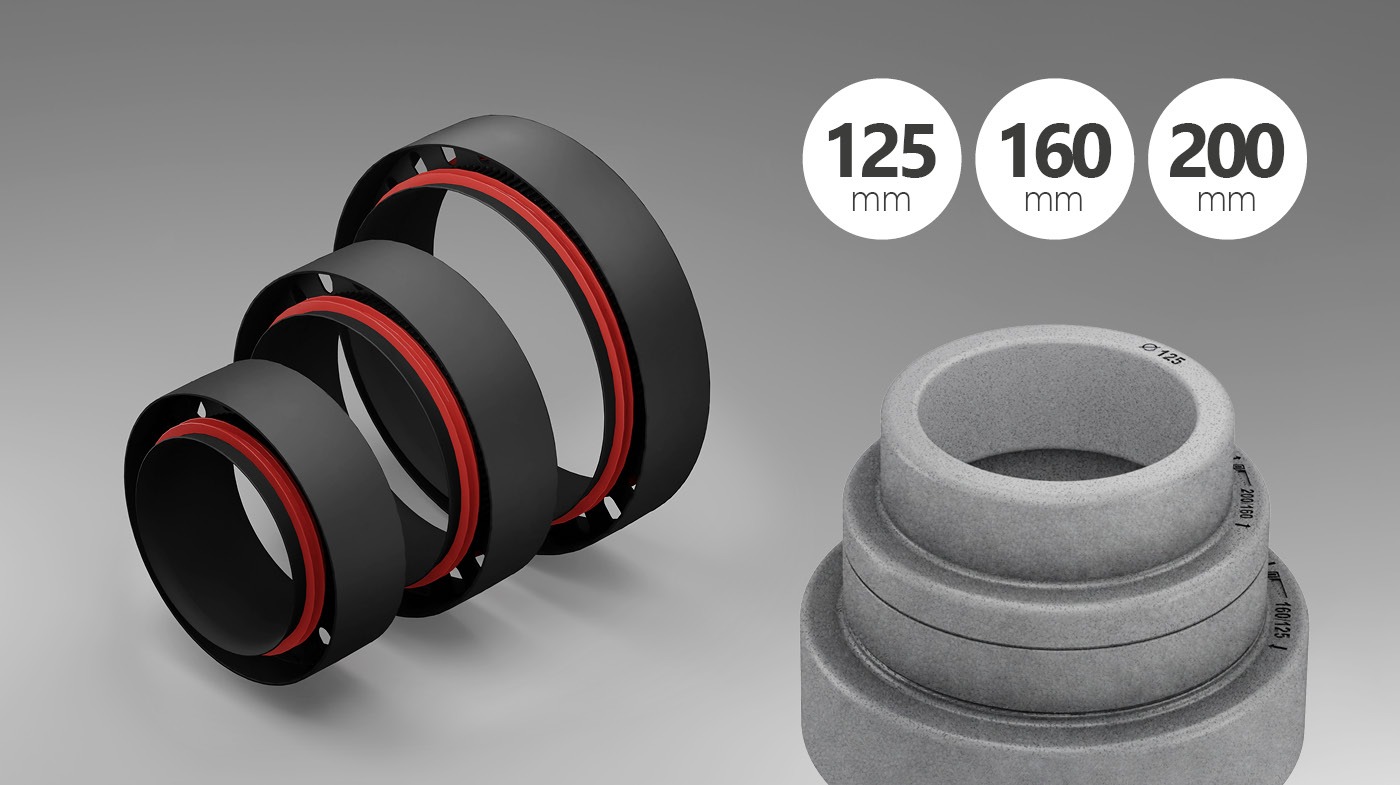 Versatile system
3 diameters: 125 mm / 160 mm / 200 mm
ARIA ADURO is offered in 3 most popular diameters. 
Reducer 125/160/200 with ability to match the system to each of the 3 diameters.
Standard dimensions
ARIA ADURO fits most of the HRV units available on the market, and the dimensions are in line with traditional ventilation equipment. Inner diameters comply with the EN 1506:2007 standard.
Complete system
for your house
ARIA ADURO and ARIA CONNECT can be combined for a complete air distribution system for heat recovery ventilation HEATPEX ARIA.
SUPERIOR SOLUTION - INGENIOUS DESIGN
Fast installation, high level of insulation and airtightness of the system are just some of the advantages of our solution.
GET TO KNOW THEM ALL!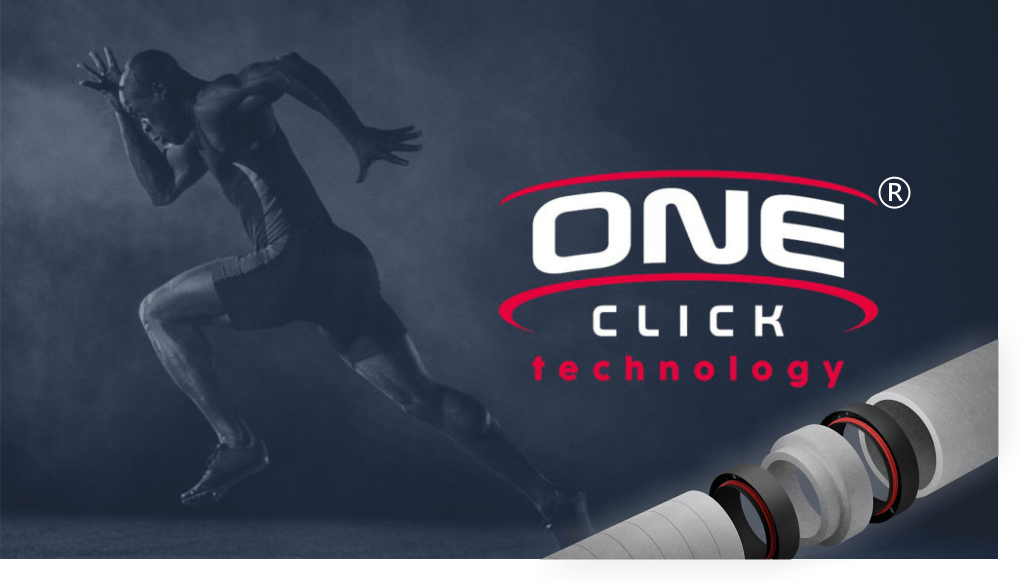 OneClick technology®
Proven design
Thanks to adaptation of OneClick technology® known from ARIA CONNECT air distribution system, connecting ARIA ADURO elements together is faster and easier than ever.
ARIA ADURO elements are connected by a connector which needs be on slid on two components. Included gasket provides air tight connection, so no additional sealing methods are required.
High insulation and airtightness
ARIA ADURO is made of a light and durable material with high insulating properties: expanded polystyrene with the addition of graphite, making it resistant to fungi, mold, and bacteria.
Both the EPS and the added graphite result in increased insulating properties with a thermal conductivity of λ=0.029 W/mK, compared to metal ducts insulated with mineral wool. This reduces heat loss and prevents the formation of condensation.
The material and patented connection system OneClick technology®, along with the well-designed construction of each element, resulted in the highest air tightness class: ATC1, according to the EN 17192 standard. This result is confirmed by an independent laboratory, and it means three times higher air tightness than in a D class system.
High air tightness is achieved through a seamless construction of the ADURO pipe and a connector with an included gasket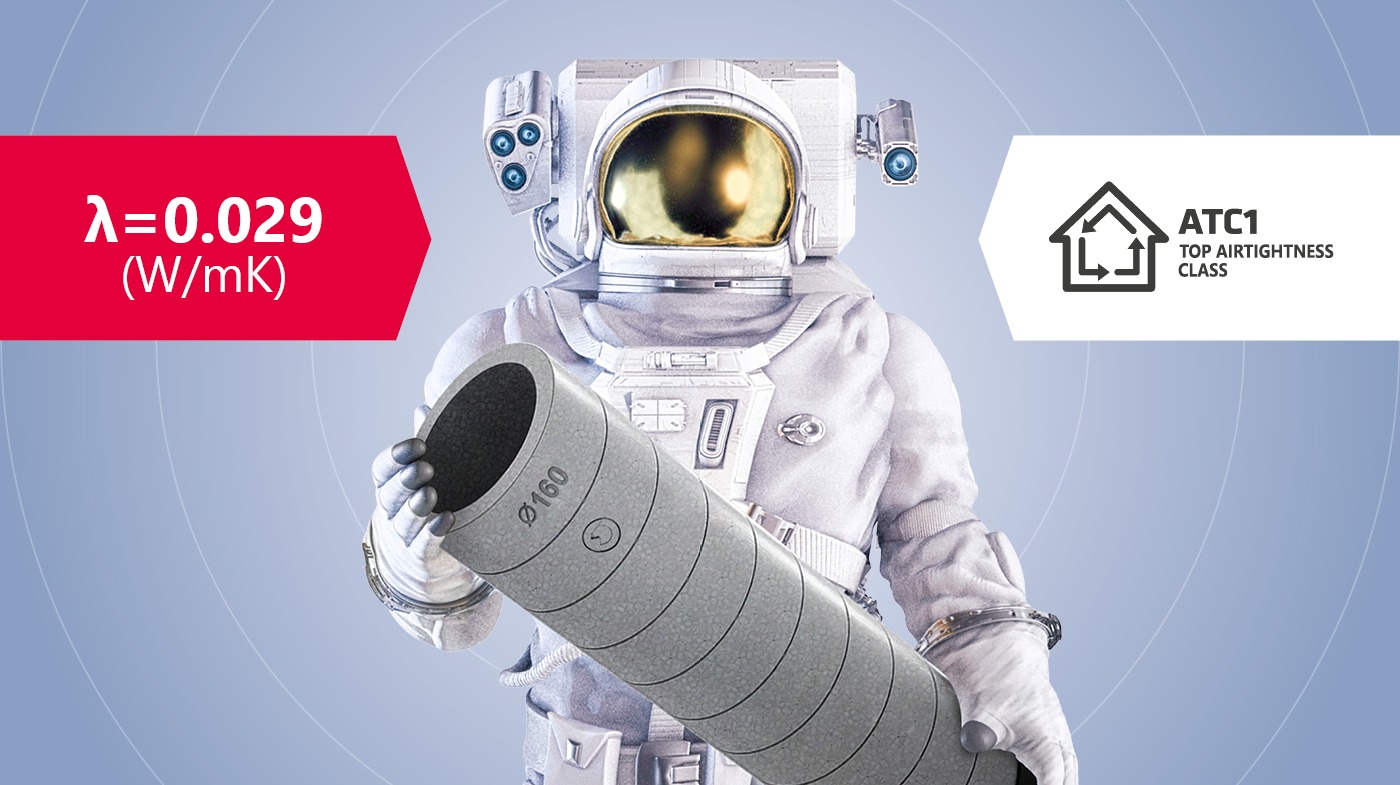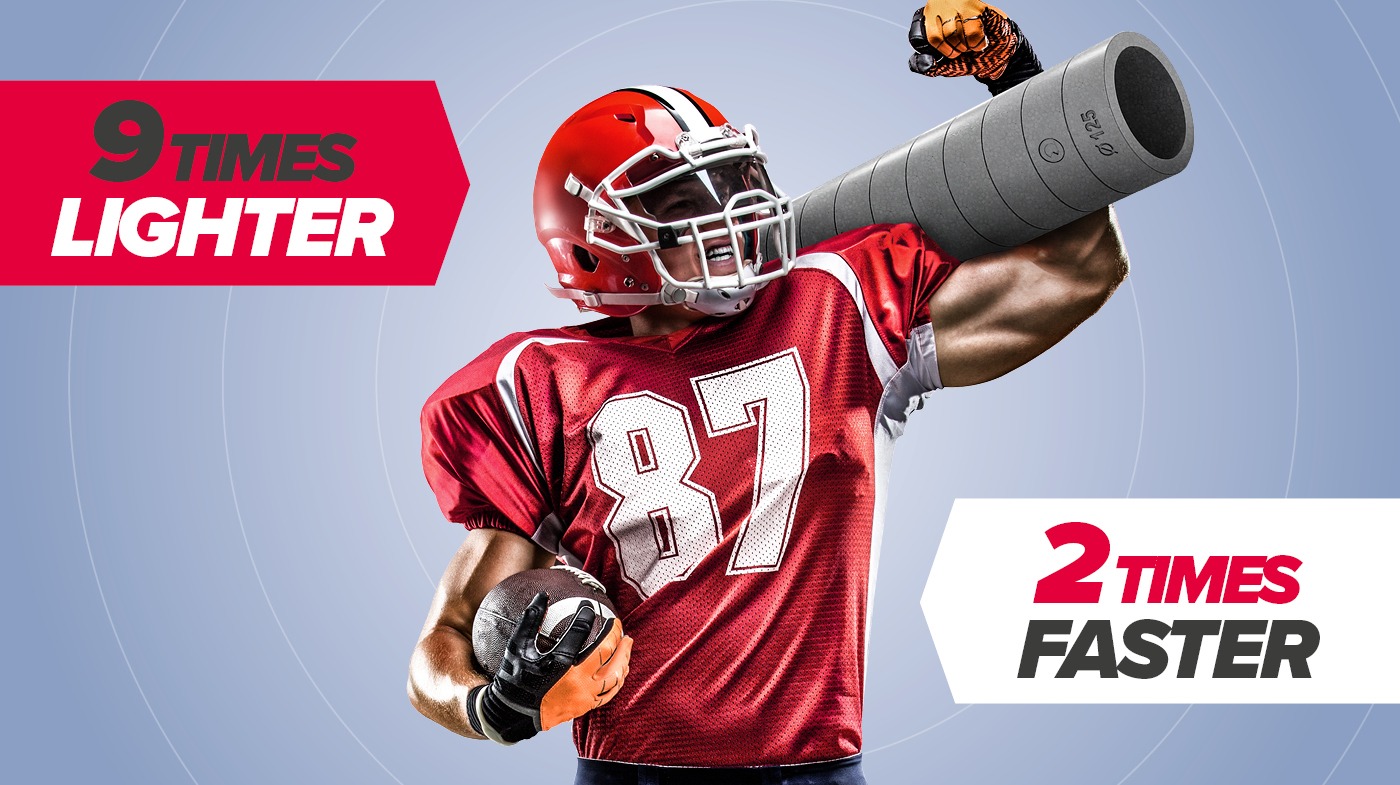 Durable and ultra light
- fast and easy installation
ARIA ADURO system is 9 times lighter than a traditional metal system, which greatly eases the installation. As a result, the setup is 2 times faster than with a round metal ducts.
Durable and rigid material with smooth interior wall removes the risk of deformation of the duct during installation as well as reduces the pressure drop by half in comparison to flexible preinsulated ducts. This ensures a silent and cheaper operation.
Original mounting bracket
for quick installation
Simply attach the bracket to the surface, slide the pipe through and tighten the band.
The ultra-lightweight ARIA ADURO elements require a minimum number of mounting brackets. The brackets can be connected in series or parallel for routing two or more ducts next to each other, providing modularity. Additionally, one bracket size fits all three diameters (125mm, 160mm, and 200mm), making it versatile.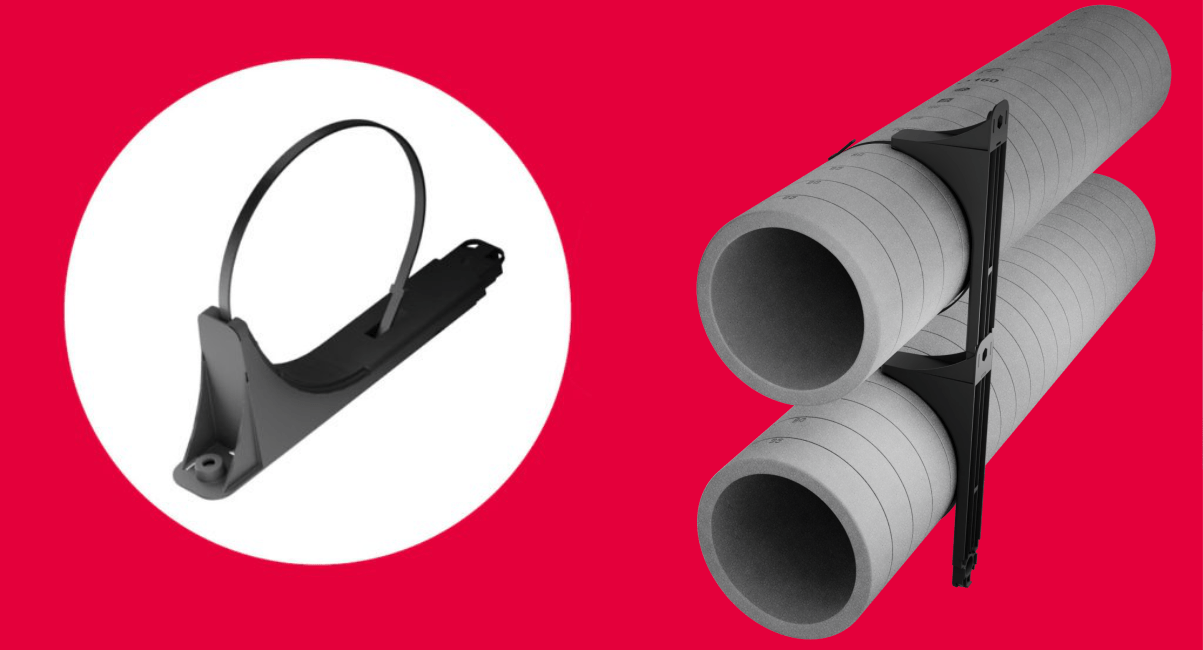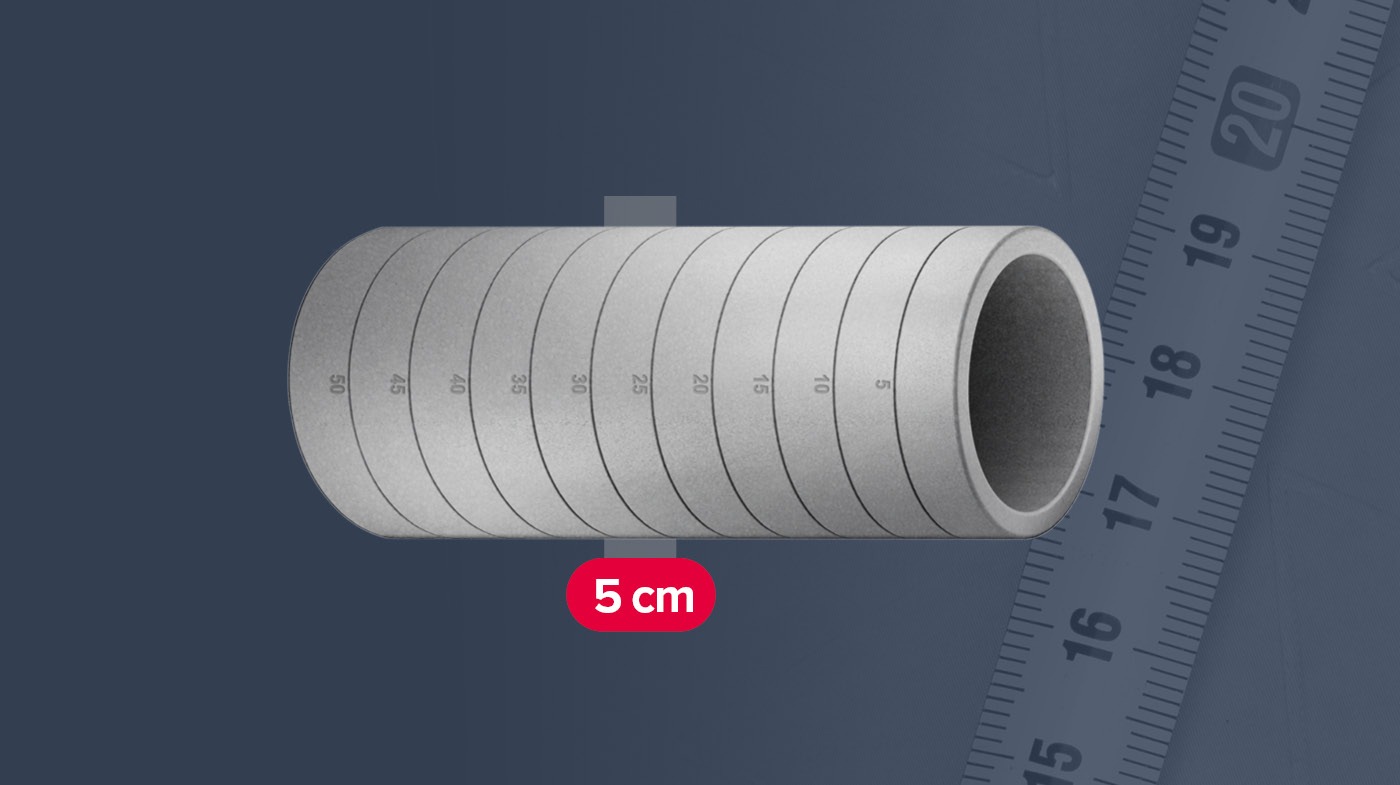 Effortless cutting
- simple setup
Markers (every 5 cm) help cut the pipe to required length. Wall thickness of only 17 mm lets you easily cut the pipe, using a simple knife.
ARIA ADURO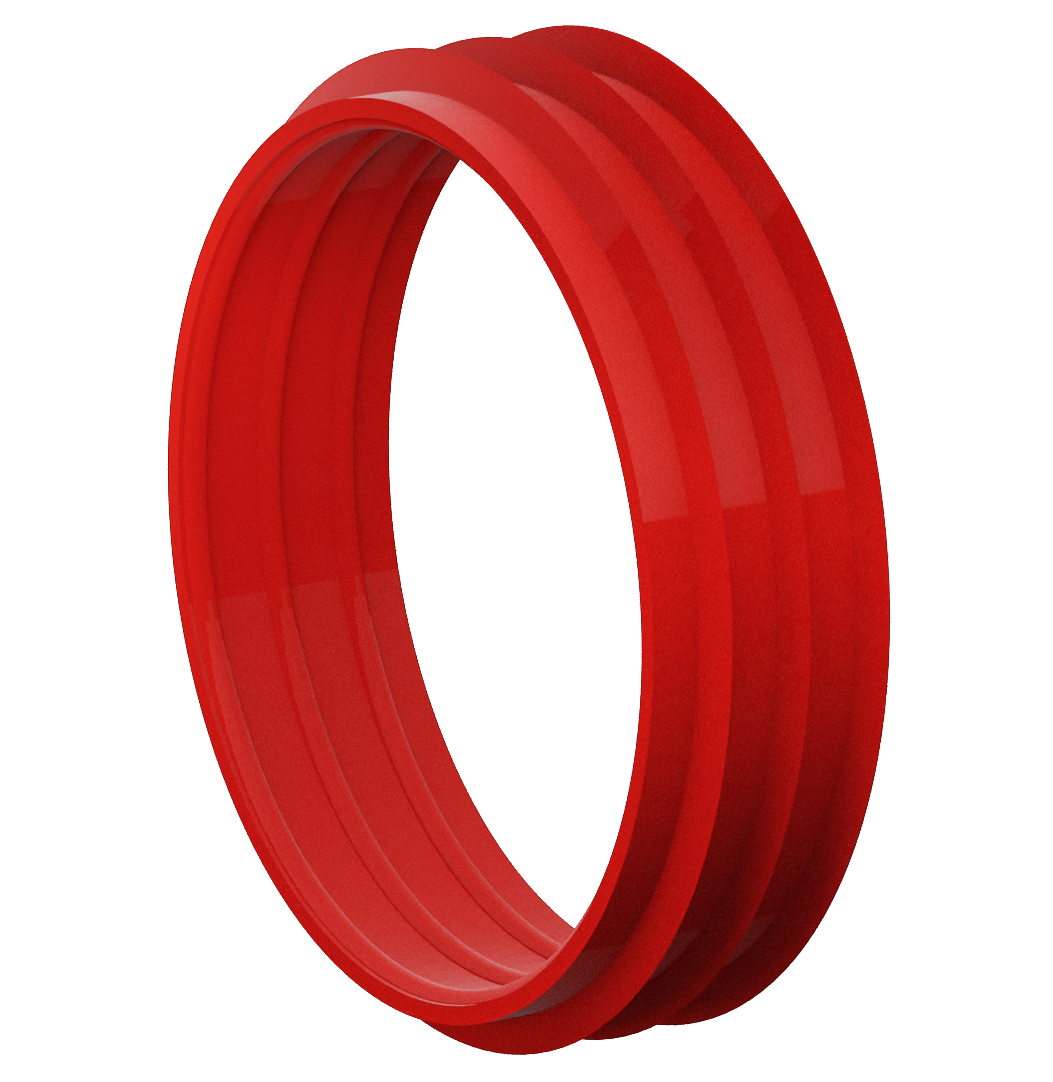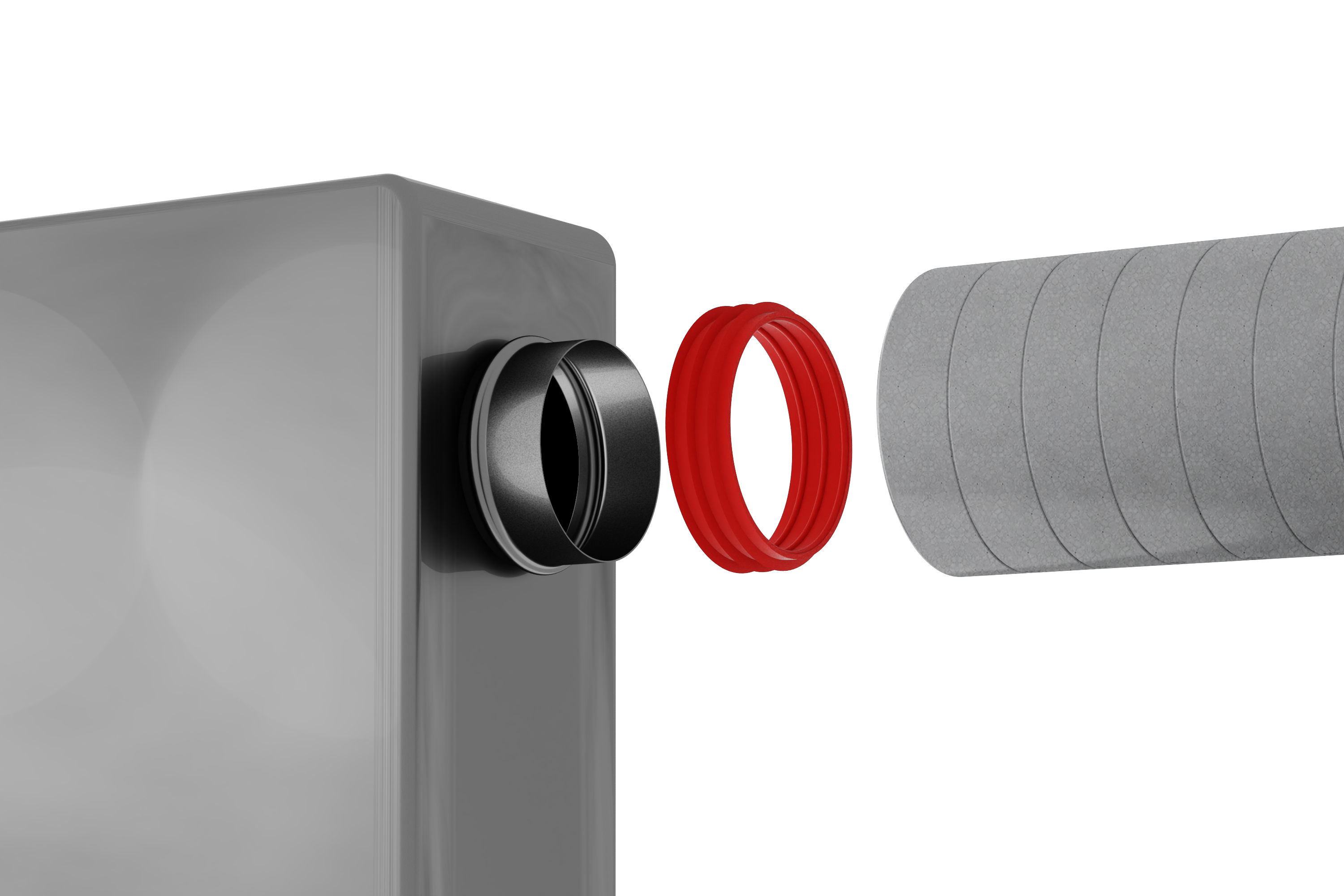 Hrv unit connection adapter
NEW!
Adapters ARIA ADURO 150/160 and 180/200  are intended for connecting 160 and 200 mm ducts to HRV units with 150 and 180 spigots.
Adapters  are placed on the outside of existing HRV unit connection and hides fully inside the duct. Therefore, the adapters don't affect the ductwork overall length, which especially matters when limited space is available.
Fast and easy installation without any tools.
Fully hidden inside the duct, do not leghten HRV connection lenght.
High quality material and production process ensures perfect air tightness.
| Designation | Height (mm) | Weight [kg] | Material | Catalogue number |
| --- | --- | --- | --- | --- |
| AKR 150/160 | 40 | 0.2 | EPDM | 520 116 001 |
| AKR 180/200 | 40 | 0.2 | EPDM | 520 117 001 |